Jeanette Pasin Sloan
Jeanette Pasin Sloan's paintings, drawings, and prints display technical feats of virtuosity. The artist uses a photo-realistic style to depict reflective objects set against patterned backgrounds. However, she subverts both genre and style, infusing the traditional genre of still life painting with highly abstract tendencies. Closely-cropped, and set in carefully manipulated compositions, the subject matter of Pasin Sloan's work takes second stage to its formal intensity.
Pasin Sloan was born in Chicago in 1946. She graduated from Marymount College, Tarrytown, New York, and received an MFA in graphic arts from the University of Chicago. She has produced numerous editions with Landfall Press since 1978, includingExpresso Cups andClub State II. Recently, Pasin Sloan completed a lithograph entitledAlignment for Landfall Press's 30th Anniversary Portfolio.
A new monograph of Pasin Sloan's work, written by Gerrit Henry, was published in 2000 by Hudson Hill Press, New York. To order a copy, visit the artist's web site at:jeanettesloan.com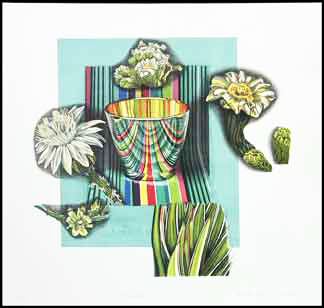 Cottonwood
2017
Lithograph
22 1/2" x 22"
Edition 50
$1,600


larger