Will Holub
Artist's Statement
In the Spring of 2006, Santa Fe artist Will Holub created a triptych of prints at Landfall Press' New Mexico facility. Interpreting signature visual devices found in his paintings, Will embraced the cooperative and sequential process of printmaking to produce a richly colored series of large-scale prints that can be viewed either as a cohesive set or separately as meticulously crafted single images. Dominated by calligraphic-like, "edited" tree branches derived from his own photographs, the prints are visually "textured" with successive layers of markings, including an over-all, loosely configured grid pattern, gestural brush strokes, tonal shifts and, finally, three overlapping sets of "splattered" dots that evoke both the natural world and its underlying quantum field.
Notes on the Titles
While visiting his parents' Connecticut home this past Winter, Will Holub took photographs of some of the trees on their property, which he then used as the dominant marking devices in his triptych of Landfall Press prints. Reminded of how Dorothy in the "Wizard of Oz" realized at the end of the film that her happiness was always in her own backyard, Will decided to title his prints "Huck," "Zeke" and "Hickory" after the three farmhands who, in Dorothy's Technicolor dream, became the Scarecrow, Tin Man and Cowardly Lion.
Biography
Will Holub has been living and working in Santa Fe, NM since 1992, after more than a decade in New York City, where he was an active participant in the East Village art scene of the 1980s. Most recently chosen as a finalist in the New Mexico Art in Public Places Program's Acclaimed Artist Series, the community-minded Holub also serves on the steering committee of Creative Santa Fe, a new advocacy group for the arts. In the Spring of 2006, Holub's paintings were shown for the first time at the Braunstein/Quay Gallery in San Francisco and he's also represented by Zane Bennett Contemporary Art in Santa Fe, NM.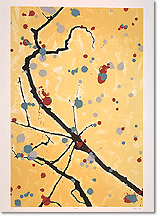 Huck
2006
lithograph
42" x 30"
edition of 50
$1,500

Co-Published by Timothy J.B. Willms Fine Arts


larger