Patrick McFarlin
Beyond Landfall
It's too early to know where the collaborative lithography experience at Landfall Press will push my work, except to say, think I will take a walk in some new neighborhoods. Stake claims, check out possibilities such as using layered color, overpainting, and transparency in ways I haven't thought of before. One thing for sure: The Landfall experience taught me the meaning of reticulation. One other thing: Bellini has joined my pantheon.
Artist's Statement
Do I have a statement?
Questions, I've got.
Can color shake hands with humor?
Can we take a break from preachy, convoluted contextualization? What am I saying??? Alex Melamid looked at my work and said, "How are people in NYC going to know about your painting?" You tell me, Alex? "You've got to put yourself on a shelf. Like a shelf in the library." (in other words, contextualize) Okay, what shelf are you on? "The Russian shelf, youíve got to make it simple." Oh, considering my point of origin, guess I could put myself on the Arky shelf. Most folks know about Arkansas, post-Clinton. Could call my output: Arkyology. Not a good idea, besides, Arkansas is past tense. Picked up a different palette in the San Francisco Bay-Area and living in the high desert has evaporated a lot of that southern humidity. "The work has a Bay-Area look," Alex said.
Do I have a statement? A shelf? Narrative, portrait, landscape, moodóI hammer away with pigment on a stick. Occasionally something happens.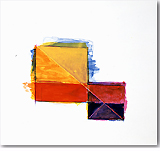 Two Bright Days
Co-Published with Timothy J.B. Willms Fine Arts
2006
Lithograph
22" x 30"
Edition 50
$500

larger