David Levinthal

Since 1972, David Levinthal has photographed dolls and toys in settings that force us to question their apparent innocence. While the surface of Levinthal's work appears glossy, ordered, and even beautiful, its content raises our most controversial subjects and speaks to our darkest histories. Confronting such difficult topics as racism and the Holocaust, the work challenges deep-seated stereotypes, national myths, and other culturally ingrained perceptions.
Levinthal has received fellowships from the National Endowment for the Arts and the John Simon Guggenheim Foundation. He has also had one-person exhibitions at the International Center for Photography, New York, the Corcoran Gallery of Art, Washington, D.C., and other museums and galleries.
The artist recently completed his first prints with Landfall Press, a set of 8 photogravures entitled Uncle Tom's Cabin. Like much of the Levinthal's work, the photogravures are simultaneously lush and subtly chilling. They represent narrative episodes from Harriet Beecher Stowe's famous novel, using tin figurines placed in dramatic relationships. Levinthal's photography renders the silhouettes luminous, with shadows cast on a limited ground plane. Removed from the make-believe children's games they might evoke, the figures occupy an otherworldly atmosphere. Behind the precious figurines, a deeply receding blackness signifies a more haunted narrative, a historical past suspended just beyond our grasp.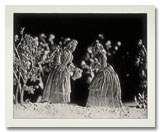 Uncle Tom's Cabin
1999
suite of 8 photogravures
17" x 20"
edition of 25
$9000/suite